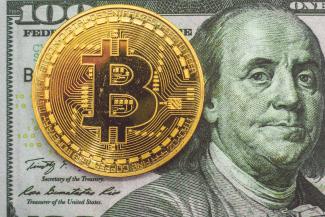 Bitcoin the Latest Tech Chapter in Entrepreneurial Success
Let's start with the latest technology first. What's all the buzz about Bitcoin and other digital-assets?
Most of the investment world is sales-oriented. There's nothing easier to sell than a shiny new object lacking history or known faults. Make some sound bites about the "best new technology since the Internet" and the media jumps into a frenzy. It's a mutually beneficial circle; techies plant the story, then media hypes it. Then brokers use the media stories to sell all things digital. Repeat.
So, you think it's a bust?
No, I actually think that some of the buzz is warranted. The Blockchain technology which supports Bitcoin and other crypto-assets is very real. And the potential is great, perhaps massive. But it is way early in the innovation cycle. Likely way too early to predict winners and losers. Many of the world's biggest companies are already exploring the technology and it will mature into something significant. But I think it's early in the game for most average investors. I'll watch carefully as it unfolds … could bring the next Amazon, but we aren't quite there yet.
Do you see a day when digital-assets become mainstream? Maybe they have a place in ordinary portfolios?
That remains to be seen. Our shop needed an enthusiast to gain some expertise, so I earned a Certificate in Blockchain and Digital Assets from the Digital Assets Council of Financial Professionals. I'll be watching the sector as it matures. If it fits our clients, we'll seek the best ways to add it to portfolios. 
You've watched technology develop since 1984 when you launched your investment career. How does that inform your opinions about the business today?
One reason I envisioned Family Investment Center in 1998 was technology. I was a senior officer at a local trust company we started, and the tech world was exploding. Cell-phones were fairly new on the scene – phones, not smart phones - and the Internet was unfolding. You were starting to see financial innovation. I had started using Schwab for my personal investing and loved all the new tech bells and whistles – free checking, 24/7 Internet look-up, automated deposits and payments, a supermarket of low-cost mutual funds. At the time, these were bleeding edge technologies, and our trust company couldn't match them. Plus, new investment analytics promised to change the world. I was all over that.
You mean like analyzing stocks and bonds? That wasn't so new.
What was transformative was that the information became public. Firms like Morningstar shared their digital databases in a user-friendly and cost effective way. All the sudden, you didn't need an expensive middle-man to invest. I could see it would change the markets and it did. If you don't believe me, look up the cost of trades and fund management fees since then: transparency changed everything about the investment business. Look how Charles Schwab – the original "discount brokerage" architect – has grown since then. Pioneering technology was one leg of their business plan, too.
So, you saw the future and built a better mousetrap. The American Dream, right?
I got some of it right, but not all of it. My thinking was that people would change if I showed them a newer, better, and cheaper way. Focus on facts, not sales hype. Build portfolios from low-cost, deliberate, and liquid securities. Charge a fair fee that was unleashed from sales commissions. I mean, that's what I would want, but I missed an important point: Many people weren't confident enough to make an immediate jump even after they saw it. They didn't necessarily trust their own judgment to make that leap. That's why they depended on a broker in the first place. I didn't understand that 20 years ago; Dan can see things and adjust quickly, others take a lot more time.
People trusted relationships they already had. I guess that makes sense.
It's still a tough lesson for me. People will trust their bumbling brokerage friend from Sunday School over a now-proven investment platform with a regulated fiduciary. Industry bad apples have hurt credibility to the point where crazy uncle Joel can seem more trustworthy than the folks who really do know. I still shake my head today. In a world where helpful information is everywhere, people still rely on poor heuristics for making decisions.
Still, you've seen success with Family Investment Center so something must have worked.
It's true that we've grown way beyond expectations. But it didn't come easy, and I have scars to show for years of trying. Luckily for me, there were enough early clients to keep the door open while we proved how our fact-based investment platform worked. There were smart people with both the foresight and confidence to hire us. I'm still grateful to those early adopters. Nearly all of them are still with us 23 years later … we have a stellar customer retention rate. There are some really fine people in this marketplace.
What are some of the scars?
Early success created some problems. No matter how tech-savvy, the usual people stuff cropped up. I still have a rambling hate letter written to me by a popular stockbroker explaining how I was making him look bad. He bolstered his argument with Christian Scripture and anecdotes. Our local Chamber of Commerce and powerful nonprofit groups were and are dominated by large banks and industry titans who really prefer a status quo for the St. Joseph community. Though I've lived and worked here my whole life, Family Investment Center represented creative destruction and a few of them still perceive me as an enemy. The local environment isn't very friendly to innovators, especially if they have entrenched competitors. It sounds bizarre, but it's true. One public relations advisor insisted I was being paranoid; that is, until she started reaching out on our behalf. She was stunned to validate my truth.
New ideas always face resistance. Change is very hard for many people.
It's especially hard for the Good Old Boys. They aren't very comfortable with transparency and information-based investing. I still can't fathom why a mediocre status quo is better than quality innovation and service. Just like I can't fathom why someone would choose incompetence over competence, or secrecy over transparency. I guess I believe that if you can do better, you should do better. But that's clearly not universal, at least for everyone.
Which raises another point. You opened an office in Lenexa, Kansas, part of the Kansas City metropolitan area. How did that come about and has it worked?
It's worked way better and faster than we imagined, partly, again, due to Zoom and other communications technology. In fact, advisory firms similar to Family Investment Center have blossomed across the country, but I never discovered the right advisors to expand. One day our phone rang, and it was an old friend looking for a new home. Together, we crafted a growth plan.
Is Kansas City a better market for your services? Is new success tied to people or geography?
It is both. Richard Salmen and I met 20 years ago, and we both observed the other from afar. Richard is very unique, genuinely one of the highest profile financial planners in the country. He's been national president of both the Financial Planning Association and the Certified Financial Planning Board. You can do a Google search on him, and you'll be astounded by what you see. I'm not kidding when I say he's at the top of our profession. Of course, if you do a Google search for Dan Danford, I think you'd be surprised by those results, too. We are both pretty newsworthy, as the worldwide Internet will affirm. When you put two good heads together, add a group of quality advisors nurtured in this culture, the results can be amazing. Our business formula has seeded a few advisor-millionaires.
One plus one equals three, that's your magic?
Basically, we used the investing template I pioneered over 20 years as a foundation for financial planning services. It turns out that a lot of quality people really do want mentoring and guidance when making financial and investment decisions. And they are willing to pay for that expert help. At Family Investment Center, we always provided guidance to clients, but on a situational basis. Richard's carefully-designed process – classic intellectual property - builds that into an ongoing relationship where people are intentional about taxes, investing, and estate planning. He'll even help clients buy a new car if they want!

Investing and financial planning seem so salesy and stodgy. It's fascinating that you've engineered a different road. More entrepreneurial, less rigid.
First-rate technology brings us full circle. By using the latest planning software, we can focus on what people really need from an advisor. Family Investment Center was built on genuine facts about finances and investing. Business is a journey, and it changes every day. I still enjoy much of what I do and have plans to keep engaged for another decade. I never envisioned myself being one of those old guys proclaiming my "50 years in the business" but that could happen.  I still learn new stuff all the time … that brand-new certificate in digital-assets is a good example. Our clients deserve the best we can give. Staying current and upgrading when necessary is part of our commitment.
---
BIOGRAPHY 2021
Dan Danford is a CFP® professional. He is Founder, Principal and CEO of Family Investment Center, an innovative full-service, commission-free (Fee Only®) investment advisory and financial planning firm. Family Investment Center operates two offices in the Kansas City metro area.
Dan has been advising clients on how to preserve and manage wealth since 1984. He was one of the founders of the Trust Company of St. Joseph, a nationally-recognized Missouri chartered trust company, and then went on to create Family Investment Center in 1998.
He holds a bachelor's degree in Marketing, an MBA, and a MS in Personal Financial Planning from three different Midwestern universities.
He favors solution-based planning and proven investment strategies. He writes extensively on investment-related topics and his articles have appeared in both professional and consumer magazines. He has also written several books including Happy to be Different: Personal and Money Success Through Better Thinking (First Edition Publishing, Sarasota, Florida USA). He is also the creator of the podcast "Money is Freedom," available on iTunes and Sound Cloud.
Dan has served on the Midwest Region Board of Directors for NAPFA and currently chairs the NAPFA Public Policy Committee which monitors and directs national legislative and regulatory issues. He also serves as a director at National Advisors Trust of South Dakota.
Dan has taught personal finance and investing at Missouri Western State University and has been a presenter at local, regional, and national workshops and conferences.